The C53 Preamplifier is ready to serve in your home audio system for many years – even decades – all while delivering unmatched audio quality. Following the digital audio precedent set in our current solid state integrated amplifiers, the C53 stereo preamplifier features an upgradeable digital audio module. But unlike our integrated amplifiers that use our DA1 Digital Audio Module, the C53 is the first to use our new, more advanced DA2 Digital Audio Module.
The DA2 builds upon the DA1 with an expanded set of capabilities. In addition to having all the same connections as the DA1 (2 coaxial, 2 optical, 1 USB and 1 proprietary MCT for use with our MCT series of SACD/CD Transports), a new audio-only HDMI Audio Return Channel (ARC)1 connection is included on the DA2. This allows it to be connected to TVs with a compatible HDMI (ARC) output to bring your TV sound to a new level of audio performance by listening to it through your home stereo system. Popular multi-channel audio formats from Dolby® and DTS® are supported and will be expertly converted to 2-channel audio for proper playback through the C53. When CEC communication is enabled in both the C53 and your TV, the C53 remote can control the TV's power and volume.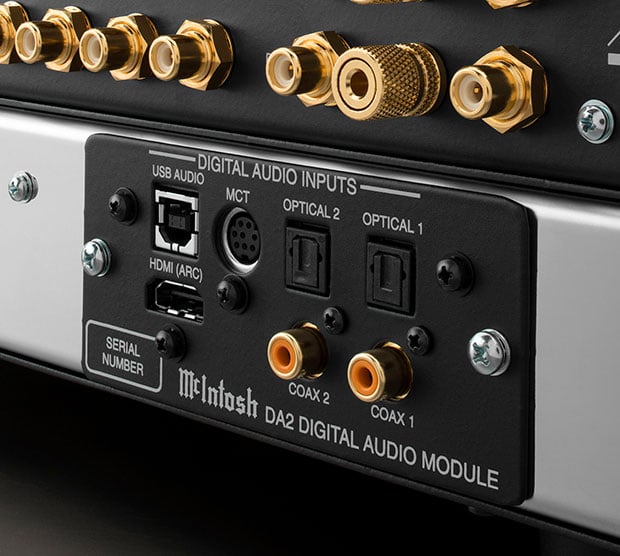 Additionally, the DA2's USB input can support native playback of up to DSD512, surpassing the DSD256 limit of the DA1. This increased DSD playback support is thanks to the next generation, Quad Balanced, 8-channel, 32-bit Digital-to-Analog Converter (DAC) that powers the DA2. This audiophile-grade DAC is highlighted by both an improved dynamic range and total harmonic distortion compared to the DA1. The USB input also supports DXD up to 384kHz. The coax and optical inputs can decode digital music up to 24-bit/192kHz for high resolution audio playback. Rounding out the DA2 is an MCT input that offers a secure, custom DSD connection for playback of the high definition audio found on SACDs when paired with our MCT series of SACD/CD Transports to produce the best possible sound quality from your SACD collection.
In addition to the 7 digital inputs found in the DA2 module, the C53 also has 9 analog inputs, giving it a nearly inexhaustible number of 16 total inputs for connecting all your music sources. The analog inputs consist of 3 balanced and 4 unbalanced connections, plus 1 Moving Coil and 1 Moving Magnet phono inputs for plugging in your trusted turntable. Outputs include 3 variable balanced and unbalanced connections along with 1 fixed unbalanced connection.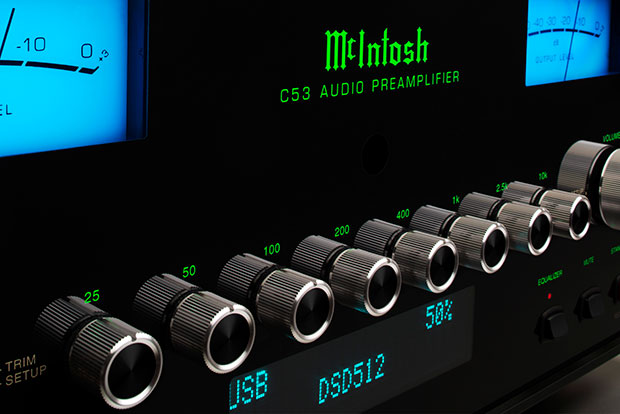 Tone controls include an 8-band analog equalizer; each band can be adjusted ± 12dB so you can fine tune your music just the way you like. Our High Drive Headphone Amplifier can power virtually any pair of headphones, while Headphone Crossfeed Director (HXD®) can bring an added dimension to your music. Home Theater Pass Through lets the C53 be seamlessly integrated into your home theater system. Power Control ports let you easily turn other connected McIntosh components on and off, while the Data Ports can send remote control commands to connected source components.