The fully loaded, hybrid McIntosh MA12000 is a product of uncompromising audio engineering and expert craftsmanship. Our most powerful integrated amplifier ever, the feature rich MA12000 offers 350 Watts per channel of clean, high performance power. You will think your favorite musicians are playing a live, in-person performance in your house.
Hybrid-design
The MA12000 gives you the best of all worlds with the warm nuances of a vacuum tube preamplifier (or valve preamplifier as some of our friends like to say) combined with the speed and raw power of a solid state amplifier. There are also state-of-the-art digital audio capabilities, and enough analog audio connections for virtually any home music system.
The MA12000 is a hybrid design with the preamplifier section powered by (4) 12AX7A vacuum tubes (2 tubes per audio channel), while the 350 Watt power amplifier section employs a solid state design. Our Autoformer™ technology guarantees your speakers will always be capable of receiving that full 350 Watts whether they have 2, 4 or 8 Ohm impedance.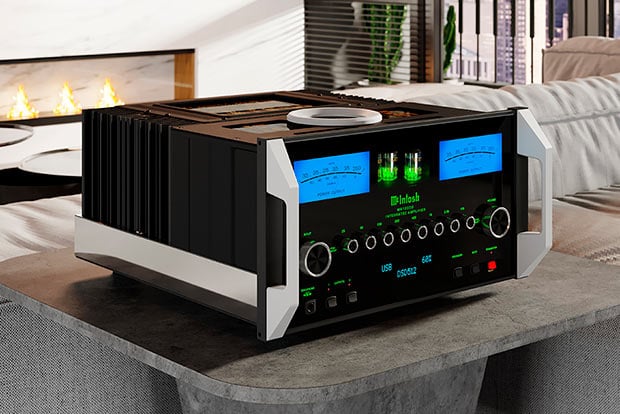 ---
Other MA12000 features include:
Power Guard® that monitors the output signal for over driving and makes real time micro adjustments to the input signal. This prevents harsh sounding clipping that could potentially damage your speakers
Our fuse-less short-circuit protection circuit Sentry Monitor™ that disengages the output stage before current exceeds safe operating levels and then resets automatically when operating conditions return to normal
A pair of peak responding, trademarked «McIntosh Blue» Watt meters that indicate the real time power output of each audio channel
McIntosh Monogrammed Heatsinks™ which are connected to advanced high current output transistors. These minimize thermal equilibrium lag (or warm-up) time and help keep the MA12000 running cool
Home Theater PassThru that allows for seamless integration into a home theater system
Our patented Solid Cinch™ speaker binding posts that easily but securely attach the speaker cables to prevent them from coming loose and possibly causing a short. The binding posts are also gold-plated to prevent corrosion and ensure a quality signal is sent over your speaker cables to your speakers
A discrete, eight-band tone control that allows for advanced manual analog adjustment of your favorite recordings
High Drive headphone amplifier with Headphone Crossfeed Director (HXD®) which can bring an added dimension to headphone listening
Power Control to send power on/off signals to connected McIntosh components for easy system power up and shutdown
Doubling of filter capacity compared to our other integrated amplifiers for even better low frequency performance
The latest audio-grade circuit components to deliver the best sound possible
Powerful control microprocessors to improve overall system operation
Easy operation via front panel controls or the included comprehensive remote control
Roon-certification
The DA2 has received Roon Tested designation from Roon Labs. This can be especially useful if you have an extensive library of digital music. It has been profiled and tested by both Roon and McIntosh for maximum compatibility. Roon will recognize it and send it audio optimized for its capabilities. No fiddling with checkboxes or dropdowns. Roon Tested devices are automatically identified and configured out of the box for a superior customer experience.
The top of the McIntosh MA12000 is highlighted by some updated industrial design elements. The Autoformers and power transformer are now contained in a new glass topped enclosure. These are capped by a glass name plate encircled with a decorative trim ring. Key performance specifications and a detailed block diagram are printed on 5 glass panels.
The entire unit is wrapped in the classic McIntosh aesthetic. With a pair of blue watt meters, a black glass front panel, rotary control knobs, illuminated logo, aluminum end caps with built-in handles – and a beautiful stainless steel chassis polished to a mirror finish. The MA12000 can be paired with a variety of turntables, CD players, music streamers, and speakers.